24/7 service for phones, tablets and laptops. Call us: +48 787-208-601
We repair all available models of all manufacturers, both phones, smartphones, tablets and laptops.
We are one of the few 24/7 landline phone services in Warsaw.
We provide all types of repairs and services: from the simplest, such as gluing protective glass, to specialized repairs of integrated circuits on the motherboard.
We have many years of experience in repairing electronic devices: phones, smartphones, tablets and smartwatches. We have professional equipment, specialized tools and an advanced laboratory that allows us to undertake any type of service and perform it in accordance with all the highest industry standards. Service of devices of such brands as: Samsung, Huawei, Apple iPhone, HTC, Xiaomi, Sony, Blackberry, Microsoft, Motorola, LG, Realme, Oppo, Lenovo and any other available on the market.
We repair devices from any age group, both older and newest smartphones and tablets, so you will certainly be satisfied with our services.
Our service consists of simple rules:
You do not pay for a quote with us – if you do not know what is wrong with your phone, you bring it to us to the service in Warsaw at Targówek, 5 Krasiczyńska Street, we analyze and estimate the repair costs, only after you accept them, we start repairing, if you do not decide to repair, we do not take anything for the quote.
We repair on the spot – we are fully aware that nowadays the phone is an indispensable device, most of the repairs are done on the spot. With us, you can be sure that your phone will not wait "on its turn". The wide range of parts that we have "in stock" allows us to perform most of the repairs on the spot.
We treat each device as our own – no matter if it is one of the older phones or the latest smartphones, we treat all devices entrusted to us with the utmost care.
We are flexible in terms of deadlines – we operate around the clock. Your phone broke on Saturday night? You do not have to wait until Monday morning, we will take care of it immediately, therefore you will have your phone repaired before other services open.
You will get a replacement mobile phone for the duration of the repair so that you can be in touch immediately.
In times of the Covid 19 pandemic, each of the phones is disinfected by us, both before and after repair.
You get a warranty for the elements we repair, both for the equipment and the service.
You can read the terms and conditions of our service here.
The most common phone failures:
Broken screen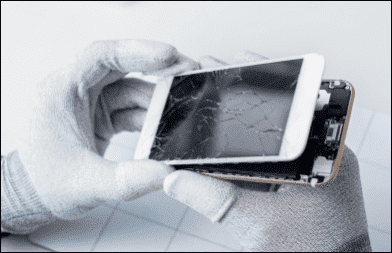 Broken screen? Cracked screen?
Or maybe the screen is not working, it is dark and not showing anything?
Such a defect can be repaired in two ways:
1. If the display has stopped working completely and cannot be regenerated, we insert a new screen within an hour.
2. If only the glass is broken and the display underneath and the touch are still working, we can repair the glass itself. This repair takes more time – we have to separate the glass from the display to maintain the original display quality, paste a new glass and wait for the glue to bond. We can spend the phone for the next day, after carefully checking the operation of the touch and setting the glue, so that everything works 100% smoothly.
Front Screen Replacement.
Low battery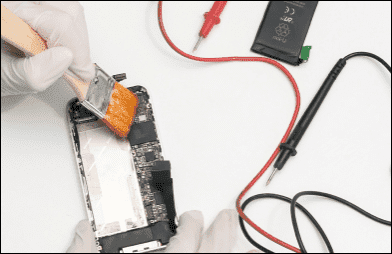 Your battery doesn't hold as much as it used to? Phone turns off even though you have a few% of battery left? Even though you've charged your smartphone all night long, the battery only lasts a few hours? Or maybe after a few hours of charging, the battery only gained a few percent? No lightning symbol pops up after switching on for charging?
These are signs that the battery needs to be replaced.
Battery replacement takes approximately 15-30 minutes, depending on the model. The new battery has 100% capacity, thanks to which the phone works much longer than before, and you do not have to charge the phone every moment and you gain the comfort of working on the equipment that greatly facilitates your life and work.
Flooded phone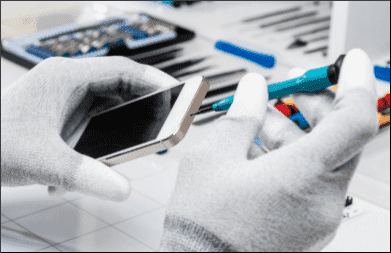 Did you drop your phone in water or other liquid?
Turn it off, if possible: remove the battery, do not use it under any circumstances, do not plug it into charger, contact the service as soon as possible – telephone:
+48 787-208-601 .
Why? Electronics do not like connecting electricity to water because it causes corrosion. We colloquially call it "eating away" the disc. It can be slow and can be disastrous for your phone's components.
Even if the phone works after flooding and contact with the liquid, it does not mean that nothing happened. It is very likely that the liquid inside and sooner or later will start to corrode and the phone will stop working.
No signal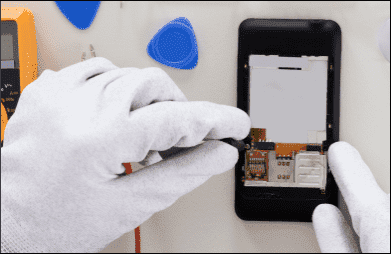 The phone is on, the sim card is inside, and the smartphone is out of range?
It may be a problem with a slot on the motherboard or a simlock. In both cases, we can help you with this. It even happens that the reason is a non-original phone body, or simply an invalid or damaged SIM card. We check all of this to be sure of the diagnosis.
Buttons not working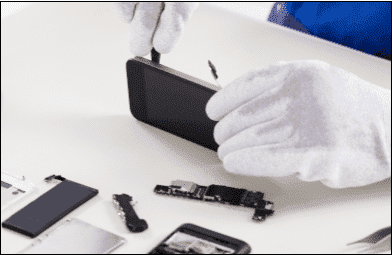 Even though most of our phones got touchscreen, physical buttons are still very important. When the power button, home button, or volume buttons breaks down, it's hard to use the phone. In newer phone models, a damaged button can even short-circuit the motherboard. But that's what we are for – replacing the buttons on the phone is our daily routine.
Broken speaker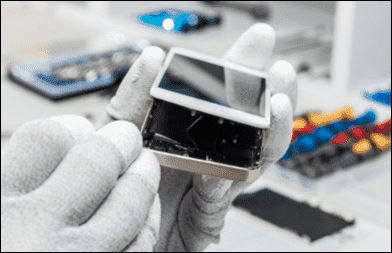 The loudspeaker is much quieter than it used to be? Or maybe you don't hear anything at all?
Sometimes it is enough to replace the loudspeaker with a new one, other times the audio system needs repair. It happens that it is enough to clean the speaker mesh, it is all for checking. It is often the case that people working in difficult conditions have less hearing, then we come to help.
Repair of phones and tablets:
We repair phones, tablets, iPads, phablets, computers and laptops of all brands available on the market:
Samsung , Apple , iPhone , Huawei, Xiaomi, Redmi, HTC, Sony, Redmi, Google, LG, Motorola, Nokia, BlackBerry, Oppo, Realme, Alcatel, Honor, OnePlus, Lenovo, Vivo, Asus, ZTE, myPhone, POCO, MaxCom, Doogee, Meizu, Ulefone, Cubot, CAT, Hammer, Hitachi, Kiano, Krüger & Matz, Manta, Panasonic, Philips, Qualcomm, RoverPC, Sagem, Vertu.
Our website invites you to a free quote for customers from all Warsaw districts:
Warsaw, Bemowo, Białołęka , Bielany, Bródno , Centrum, Mokotów, Ochota, Praga-Południe, Praga-Północ, Rembertów, Śródmieście, Służew, Targówek , Ursus, Ursynów, Wawer, Wesoła, Wilanów, Włochy, Wola, Żoliborz ,
We also invite customers from the vicinity of the city of Warsaw: Piaseczno, Kobyłka, Konstancin Jeziorna, Radom, Płock, Ostrołęka, Marki , Nowy Dwór Mazowiecki, Koło, Siedlce, Pruszków, Piastów, Legionowo, Ząbki , Otwock , Center.
The most common repairs:
Hadrware repairs
– Replacement of the LCD display
– Repair after flooding
– Replacement of the glass in Iphone , Samsung , Huawei, Xiaomi, LG, HTC, Sony
– Motherboard service
– Replacement of the camera glass (glass)
– Repair or replacement of peripherals: charging socket, speaker, microphone, camera , front and rear cameras, flex sockets
– Sticking tempered glass
– Replacing or repairing the touch panel
– "Digitizer" service
– Soldering chips on the motherboard
– Curved and broken Sim card tray
Software repairs
– Reinstalling the system software
– Uploading updates
– Removing the SIM-LOCK
– Bypassing the lock code
– Data Recovery
– Uploading an older version of the software
– Repairing after incorrect rooting
– Data downloading (to a pendrive, dvd or hard drive)
– Data transfer from an old phone to a new one
– Google password reminder
– Installation of additional applications and software
Contact us:
Cell phone service: phonetube.pl
mobile:+ 48 787-208-601
mail: serwis@phonetube.pl
adress: Młodzieńcza 32, 03-655 Warsaw (Warszawa)